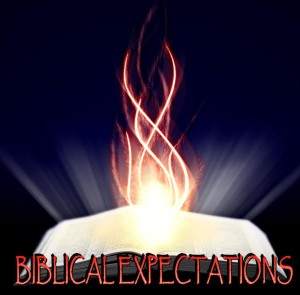 IF YOU GO TO A FAST FOOD RESTAURANT AND ASK FOR HAMBURGER, YOU EXPECT A FAST FOOD HAMBURGER.  BUT, IF YOU ORDER A HAMBURGER AT A HIGHER CLASS RESTAURANT, YOU EXPECT MORE.  WE ALL HAVE EXPECTATIONS FOR EVERYTHING EVERY DAY.
WE CHOOSE WHO WE WILL HAVE HIGH EXPECTATIONS IN–OR TO USE ANOTHER WORD, "FAITH" IN.   SOME FAITH IS BLESSED BY BEING RIGHT, AND SOME FAITH IS CURSED FOR BEING WRONG.   MANY HAVE FAITH THAT THE GOVERNMENT WILL SUPPLY THEIR NEEDS.   THEY ARE IN FOR A SHOCK, EVEN THOUGH THEY SEEK IT BY FAITH.
Hebrews 11:3 Through faith we understand that the worlds were framed by the word of God, so that things which are seen were not made of things which do appear.
MOST PEOPLE SET EXPECTATIONS FOR OTHERS HIGH AND EXPECTATIONS FOR THEMSELVES LOW.  For an example, they have expectations that the grocery store will have good sales on this week.  But, their expectation for themselves is low when they don't really do the research to find out about where they are.
Expectations for a Sunday church service is that the Pastor should give a message which will stir them well into next week, but for themselves, they really don't expect to have enough interest to stay awake.
EXPECTATION IS NOTHING MORE THAN FAITH.
MANY PEOPLE OFTEN FOCUS ON THE FAITH OF THE LAME MAN BY THE GATE, HOWEVER MUCH MORE FAITH WAS NEEDED BY PETER AND JOHN.   THEY HAD FAR MORE TO LOSE.
Acts 3:5 And he gave heed unto them, expecting to receive something of them.
SICK PEOPLE AROUND WILL HEAR.   DEVOUT PEOPLE GOING TO PRAY WILL HEAR.  IT WILL GET BACK TO ALL, NO MATTER WHAT HAPPENS.
1. THE EXPECTATION THAT GOD WILL USE YOU.
A. THIS IS OUR PURPOSE IN LIFE.
Philippians 1:20 According to my earnest expectation and my hope, that in nothing I shall be ashamed, but that with all boldness, as always, so now also Christ shall be magnified in my body, whether it be by life, or by death.
B. TRUE FAITH IS BASED UPON ACTIONS OF OBEDIENCE TO GOD.
Luke 5:4-6  Now when He had left speaking, He said unto Simon, Launch out into the deep, and let down your nets for a draught.  And Simon answering said unto Him, Master, we have toiled all the night, and have taken nothing: nevertheless at Thy word I will let down the net.  And when they had this done, they inclosed a great multitude of fishes: and their net brake.
C. MANY TIMES, THE LIFE OF MOSES WAS IN THE BALANCE WHEN HE ACTED.
 MOSES HAD TO HAVE IMMENSE FAITH.   MOST OF THE THINGS GOD DID THROUGH HIM WERE NEVER DONE BEFORE.   HE COULD NOT PULL FROM PREVIOUS EXPERIENCES OF OTHERS TO STRENGTHEN HIS FAITH.
Exodus 14:21 And Moses stretched out his hand over the sea; and the LORD caused the sea to go back by a strong east wind all that night, and made the sea dry land, and the waters were divided.
 2. BEWARE OF MISPLACED EXPECTATIONS.
THEY CAN BRING YOU DEPRESSION, DISAPPOINTMENT, AND FRUSTRATIONS.
THEY ARE PUTTING FAITH ON THE WRONG PEOPLE OR WRONG IDEA.
Isaiah 20:5 And they shall be afraid and ashamed of Ethiopia their expectation, and of Egypt their glory.
THEY ARE BASED UPON WHAT WE SEE WITH OUR EYES RATHER THAN WHAT GOD SAYS.
MIRACLES WOULD NOT HAPPEN IF BASED UPON EVIDENCE OF EYES AND EARS.
John 6:9 There is a lad here, which hath five barley loaves, and two small fishes: but what are they among so many?
THEY ARE BASED UPON WHAT OTHERS TELL US RATHER THAN WHAT GOD TELLS US. Micaiah was put in prison until the king of Israel and Jehoshaphat returned from the battle.  They believed lies, and died believing them.
2 Chronicles 18:26 And say, Thus saith the king, Put this fellow in the prison, and feed him with bread of affliction and with water of affliction, until I return in peace.
3. OUR EXPECTATIONS NEED TO BE FROM GOD.
A. WE CANNOT COMPROMISE ON OUR DEPENDENCE ON GOD.  IT MUST ALWAYS BE PRESENT AND ACTIVE.
Psalms 62:5  My soul, wait thou only upon God; for my expectation is from Him.
 B. HE HAS A TRACK RECORD OF BEING FAITHFUL.
Hebrews 10:7  Then said I, Lo, I come (in the volume of the book it is written of me,) to do Thy will, O God.

Matthew 26:42  He went away again the second time, and prayed, saying, O My Father, if this cup may not pass away from Me, except I drink it, Thy will be done.
 C. HE HAS A GIVEN PROMISES THAT ARE RELIABLE.
HE STIRS OUR FAITH WITH LITTLE THINGS FIRST.
John 1:49-50  Nathanael answered and saith unto Him, Rabbi, Thou art the Son of God; Thou art the King of Israel.  Jesus answered and said unto him, Because I said unto thee, I saw thee under the fig tree, believest thou? thou shalt see greater things than these.

John 14:12  Verily, verily, I say unto you, He that believeth on Me, the works that I do shall he do also; and greater works than these shall he do; because I go unto My Father.
"BIBLICAL EXPECTATIONS"
A Bible Study with Dr. Ed J. MacWilliams
090413