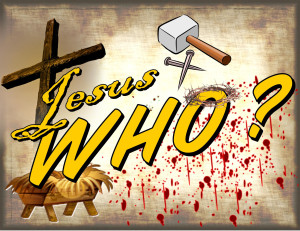 PART SIX: JESUS–THE ONLY SAVIOR
WHAT JESUS DID ACTUALLY REVEALS WHO HE IS
THE CHALLENGE FROM JESUS.
John 14:11 Believe me that I am in the Father, and the Father in Me: or else believe Me for the very works' sake.
If a person refused to believe what Jesus said about Himself, Jesus offers the opportunity to understand Who He is by examining what He did and what He does. Following are some acts which our Lord Jesus did that are recorded in Scripture..
HE FORGAVE SINS. ONLY GOD CAN FORGIVE SINS. JESUS DID THAT CONSTANTLY.
Luke 5:21 And the scribes and the Pharisees began to reason, saying, Who is this which speaketh blasphemies? Who can forgive sins, but God alone?
Luke 5:20 And when He saw their faith, He said unto Him, Man, thy sins are forgiven thee.
Luke 5:23 Whether is easier, to say, Thy sins be forgiven thee; or to say, Rise up and walk?
Luke 7:47 Wherefore I say unto thee, Her sins, which are many, are forgiven; for she loved much: but to whom little is forgiven, the same loveth little.
Luke 7:48 And He said unto her, Thy sins are forgiven.
HE IS THE ONLY ONE WHO CAN FORGIVE US OUR SINS.
Mark 2:4-7 And when they could not come nigh unto him for the press, they uncovered the roof where he was: and when they had broken it up, they let down the bed wherein the sick of the palsy lay. When Jesus saw their faith, he said unto the sick of the palsy, Son, thy sins be forgiven thee. But there were certain of the scribes sitting there, and reasoning in their hearts, Why doth this man thus speak blasphemies? who can forgive sins but God only?
HE IS THE ONLY ONE WHO COULD AND DID PAY FOR OUR SINS.
Romans 3:25 Whom God hath set forth to be a propitiation [literally: "payment"] through faith in his blood, to declare his righteousness for the remission of sins that are past, through the forbearance of God;
1 John 2:2 And he is the propitiation  ["payment"]  for our sins: and not for ours only, but also for the sins of the whole world.
1 John 4:10 Herein is love, not that we loved God, but that he loved us, and sent his Son to be the propitiation ["payment"] for our sins.
HE IS THE HIGH PRIEST WHO IS ACTUALLY ABLE TO FORGIVE, NOT JUST COVER SIN. MELCHISEDEK
Hebrews 7:22-27 By so much was Jesus made a surety of a better testament.  And they truly were many priests, because they were not suffered to continue by reason of death:  But this man, because He continueth ever, hath an unchangeable priesthood.  Wherefore He is able also to save them to the uttermost that come unto God by Him, seeing He ever liveth to make intercession for them.  For such an high priest became us, who is holy, harmless, undefiled, separate from sinners, and made higher than the heavens;  Who needeth not daily, as those high priests, to offer up sacrifice, first for His own sins, and then for the people's: for this He did once, when He offered up himself.

Hebrews 12:2 Looking unto Jesus the author and finisher of our faith; who for the joy that was set before Him endured the cross, despising the shame, and is set down at the right hand of the throne of God.
 HE RAISED THE DEAD
–LAZARUS OF BETHANY.  John 11:43 And when he thus had spoken, he cried with a loud voice, Lazarus, come forth.
–A WIDOW'S ONLY SON. Luke 7:12-15 Now when he came nigh to the gate of the city, behold, there was a dead man carried out, the only son of his mother, and she was a widow: and much people of the city was with her. And when the Lord saw her, he had compassion on her, and said unto her, Weep not. And he came and touched the bier: and they that bare him stood still. And he said, Young man, I say unto thee, Arise. And he that was dead sat up, and began to speak. And he delivered him to his mother.
–A SYNAGOGUE LEADER'S DAUGHTER WHO DIED. Luke 8:49-55 While He yet spake, there cometh one from the ruler of the synagogue's house, saying to him, Thy daughter is dead; trouble not the Master. But when Jesus heard it, He answered him, saying, Fear not: believe only, and she shall be made whole. And when he came into the house, he suffered no man to go in, save Peter, and James, and John, and the father and the mother of the maiden. And all wept, and bewailed her: but he said, Weep not; she is not dead, but sleepeth. And they laughed Him to scorn, knowing that she was dead. And He put them all out, and took her by the hand, and called, saying, Maid, arise. And her spirit came again, and she arose straightway: and He commanded to give her meat.
HE GAVE COMMANDMENTS FOR LIFE. (Requires Divine Authority).
John 13:34 A new commandment I give unto you, That ye love one another; as I have loved you, that ye also love one another.
John 15:12 This is my commandment, That ye love one another, as I have loved you.
Acts 10:42 And he commanded us to preach unto the people, and to testify that it is he which was ordained of God to be the Judge of quick and dead.
Acts 13:47 For so hath the Lord commanded us, saying, I have set thee to be a light of the Gentiles, that thou shouldest be for salvation unto the ends of the earth.
HE OFFERED HIMSELF AS THE ULTIMATE AND FINAL SACRIFICE FOR SALVATION.
–Jesus was the Lamb of God, Who took our place in punishment. While a ram was caught in the thicket behind him, Abraham was very aware that only a "lamb" would be an acceptable sacrifice. Isaac, too, noted this. Genesis 22:7-8 And Isaac spake unto Abraham his father, and said, My father: and he said, Here am I, my son. And he said, Behold the fire and the wood: but where is the lamb for a burnt offering? And Abraham said, My son, God will provide Himself a lamb for a burnt offering: so they went both of them together.
What Abraham saw, and rejoiced over, was NOT the ram caught in the thicket behind him, but what he saw when he lifted up his eyes and caught the vision of the future–the Lamb of God–God's Only Son–being sacrificed for us. Both he and Isaac were expecting a Lamb. Abraham was blessed to see the true Lamb. Genesis 22:14 And Abraham called the name of that place Jehovahjireh: as it is said to this day, In the mount of the LORD it shall be seen.
The requirement of a lamb sacrificed providing life for the Israelites in Egypt when the angel of death came is another reference to the role of Jesus. Exodus 12:3 Speak ye unto all the congregation of Israel, saying, In the tenth day of this month they shall take to them every man a lamb, according to the house of their fathers, a lamb for an house:
JOHN THE BAPTIST DESCRIBED JESUS AS THE LAMB OF GOD.
John 1:29 The next day John seeth Jesus coming unto him, and saith, Behold the Lamb of God, which taketh away the sin of the world.
John 1:36 And looking upon Jesus as he walked, he saith, Behold the Lamb of God!
HE REVEALED HIS SUPER-HUMAN CHARACTER THROUGHOUT HIS MINISTRY.
–HE WAS THINKING OF US RATHER THAN HIMSELF WHEN ON THE CROSS. NO ONE ELSE WOULD BE ABLE TO GO THROUGH ALL THAT HE KNEW HE WOULD SUFFER–FOR SOMEONE ELSE.
HE ALONE WAS THE LIBERATOR FOR THOSE IN CHAINS.
HE SET THOSE WHO WERE CAPTURED BY SIN BE FREED FROM THEIR BONDAGE. NO ONE ELSE HAD DONE THIS, OR COULD DO IT. Isaiah 61:1 The Spirit of the Lord GOD is upon me; because the LORD hath anointed me to preach good tidings unto the meek; he hath sent me to bind up the brokenhearted, to proclaim liberty to the captives, and the opening of the prison to them that are bound;
–LEGION. Mark 5:15 And they come to Jesus, and see him that was possessed with the devil, and had the legion, sitting, and clothed, and in his right mind: and they were afraid.
–WOMAN CAUGHT IN ADULTERY. John 8:11 She said, No man, Lord. And Jesus said unto her, Neither do I condemn thee: go, and sin no more.
–WOMAN AT THE WELL. John 4:28-29 The woman then left her waterpot, and went her way into the city, and saith to the men, Come, see a man, which told me all things that ever I did: is not this the Christ?
HE ALONE CAN COME BEFORE THE ALMIGHTY AS OUR INTERCESSOR AND MEDIATOR.
1 Timothy 2:5 For there is one God, and one mediator between God and men, the man Christ Jesus;
John 14:6 Jesus saith unto him, I am the way, the truth, and the life: no man cometh unto the Father, but by Me.
HE IS THE ONLY ONE WHOSE DEATH MEANT SOMETHING FOR ALL SINNERS.
–HE DIED FOR US, DESPITE KNOWING WHAT KIND OF PEOPLE WE REALLY WERE.
Romans 5:7-8 For scarcely for a righteous man will one die: yet peradventure for a good man some would even dare to die. But God commendeth His love toward us, in that, while we were yet sinners, Christ died for us.
Many people sorrow over their own loss. They cry when material things are taken away. They cry when they lose their health. They cry when they lose respect from someone. They cry when someone else is no longer there.
A Christian woman got news one day that her sister had cancer and wept for days. She couldn't stand the thought of losing her sister. Yet, she did not even think about what her sister was going through until someone mentioned about the type of cancer she had. Why ? Her own feelings were most important to her.  Jesus set aside His own feelings–feelings of hurt over the failure of the disciples to remain faithful, and feelings of incredible pain and suffering.
HE IS THE ONLY SAVIOR.
–HE IS THE ONLY SAVIOR.   Acts 4:12 Neither is there salvation in any other: for there is none other name under heaven given among men, whereby we must be saved.
John 14:6 Jesus saith unto him, I am the way, the truth, and the life: no man cometh unto the Father, but by Me. (The Greek definite article as "the" appears. i.e., not just "a way, one of several ways.")
HE IS THE

ONLY

ROAD TO HEAVEN.
Matthew 7:13-14 Enter ye in at the strait gate: for wide is the gate, and broad is the way, that leadeth to destruction, and many there be which go in thereat: Because strait is the gate, and narrow is the way, which leadeth unto life, and few there be that find it.
Many people think they can find their own way into Heaven. But, the Bible states that they will never be let in. They MUST receive forgiveness and new life from Christ Jesus first. Their own ways cannot provide this. Matthew 7:21-23 Not every one that saith unto me, Lord, Lord, shall enter into the kingdom of heaven; but he that doeth the will of my Father which is in heaven. Many will say to me in that day, Lord, Lord, have we not prophesied in thy name? and in thy name have cast out devils? and in thy name done many wonderful works? And then will I profess unto them, I never knew you: depart from me, ye that work iniquity.
HE IS THE ONLY ONE WHO CAN DEFEND YOU BEFORE THE FATHER.
1 John 2:1 My little children, these things write I unto you, that ye sin not. And if any man sin, we have an advocate ["DEFENSE ATTORNEY"] with the Father, Jesus Christ the righteous:
Hebrews 7:25 Wherefore he is able also to save them to the uttermost that come unto God by Him, seeing He ever liveth to make intercession for them.
HE IS THE ONLY ONE WHO KNEW ALL OF HISTORY BEFORE IT HAPPENED.
ONLY GOD WOULD KNOW THAT. The fact of Him knowing all things before they happen would demand that we realize He is God.
Olive Discourse. Prophecies about Peter, Pentecost, etc.
HE ALONE KNEW THAT JUDAS WOULD BETRAY HIM.
The disciples, who spent far more time with Judas had no clue.
John 13:18-19 I speak not of you all: I know whom I have chosen: but that the scripture may be fulfilled, He that eateth bread with me hath lifted up his heel against me. Now I tell you before it come, that, when it is come to pass, ye may believe that I am He.
HE ALONE TOLD OF THE ROMAN DESTRUCTION OF JERUSALEM ALMOST 40 YEARS BEFORE IT HAPPENED.
Matthew 24:1-2 And Jesus went out, and departed from the temple: and his disciples came to him for to shew him the buildings of the temple. And Jesus said unto them, See ye not all these things? verily I say unto you, There shall not be left here one stone upon another, that shall not be thrown down.
HE ALONE TOLD OF THE END TIMES, OVER 2000 YEARS BEFORE THEY HAPPENED.
Matthew 24:3-5 And as he sat upon the mount of Olives, the disciples came unto him privately, saying, Tell us, when shall these things be? and what shall be the sign of thy coming, and of the end of the world? And Jesus answered and said unto them, Take heed that no man deceive you. For many shall come in my name, saying, I am Christ; and shall deceive many.
NO ONE BUT JESUS KNEW THESE THINGS, AND THEY REQUIRED DIVINE INTELLIGENCE TO KNOW THEM BEFORE THEY HAPPENED.
HE AROSE FROM THE DEAD, AS HE PREDICTED, PROVING HIS POWER OVER ALL THINGS.
He did not need a prophet or other person to help Him do this. We also should note that He planned it to occur at a specific time which He previously announced. What mere man could have done this ? None.
Acts 2:24 Whom God hath raised up, having loosed the pains of death: because it was not possible that He should be holden of it.
Acts 3:15 And killed the Prince of life, whom God hath raised from the dead; whereof we are witnesses.
Acts 13:33 God hath fulfilled the same unto us their children, in that He hath raised up Jesus again; as it is also written in the second psalm, Thou art my Son, this day have I begotten thee.
Acts 17:31 Because He hath appointed a day, in the which He will judge the world in righteousness by that man whom He hath ordained; whereof He hath given assurance unto all men, in that He hath raised Him from the dead.
Romans 10:9 That if thou shalt confess with thy mouth the Lord Jesus, and shalt believe in thine heart that God hath raised Him from the dead, thou shalt be saved.
Ephesians 2:6 And hath raised us up together, and made us sit together in heavenly places in Christ Jesus:
Colossians 2:12 Buried with him in baptism, wherein also ye are risen with Him through the faith of the operation of God, who hath raised Him from the dead.
 ————————————————
***NOTE: in this section of the study, I have deliberately left off the many real and powerful miracles which Jesus did. The reason is that the devil is a great imitator, and tries to do similar things. To those without spiritual discernment it may actually appear that the devil (or, in the future, the false prophet) will do great miracles. So, I left these off, and focused upon things which the devil would have a most difficult time trying to imitate and deceive regarding them.
Exodus 7:11-12 Then Pharaoh also called the wise men and the sorcerers: now the magicians of Egypt, they also did in like manner with their enchantments. For they cast down every man his rod, and they became serpents: but Aaron's rod swallowed up their rods.
2 Timothy 3:8 Now as Jannes and Jambres withstood Moses, so do these also resist the truth: men of corrupt minds, reprobate concerning the faith.
These evil people even copied some of the larger plagues which God brought upon Egypt.
The spirits of antichrist and the False Prophet will do miracles…which will prove to some that the Antichrist is the true Messiah.  But, those who discern rightly will see the error of using those miracles as a basis for proving it.
Revelation 13:14 And deceiveth them that dwell on the earth by the means of those miracles which he had power to do in the sight of the beast; saying to them that dwell on the earth, that they should make an image to the beast, which had the wound by a sword, and did live.
Revelation 16:14 For they are the spirits of devils, working miracles, which go forth unto the kings of the earth and of the whole world, to gather them to the battle of that great day of God Almighty.