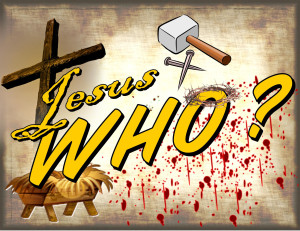 PART FIVE: HOW CAN GOD BE ALMIGHTY, YET COME TO EARTH AS JESUS ?
DAVID SAYS THAT THE LORD (YAHWEH) IS GOD ALONE.
Psalm 86:6 Give ear, O LORD, unto my prayer; and attend to the voice of my supplications. In the day of my trouble I will call upon thee: for thou wilt answer me. Among the gods there is none like unto thee, O Lord; neither are there any works like unto thy works. All nations whom thou hast made shall come and worship before thee, O Lord; and shall glorify thy name. For thou art great, and doest wondrous things: Thou art God alone.
JESUS–AS GOD IN FLESH–COULD ONLY HAVE BEEN "BORN" BY A MIRACLE OF THE ALMIGHTY.
The miracle of the Virgin birth presents a dilemma to many not familiar with Scriptures, or even with the simply logic that God is Almighty. If you were to ask a group of people if it was possible for Almighty God to make Himself appear as a 300 mile high giant, they would have no problem acknowledging that God could do it. If you were to ask the same people if God could make Himself appear as a 300 foot high giant, again, they would answer in the affirmative.
Then, asking a group of people if God could–with His unlimited power–make Himself five inches small, most would admit that God could do that. Yet, when confronted with God making Himself so small that He entered the womb of a virgin, they sometimes halt with doubts. The reality is that God is Almighty and can do anything, and by His Holy Spirit, He entered into the womb of a Virgin, named Mary. Luke 1:35 And the angel answered and said unto her, The Holy Ghost shall come upon thee, and the power of the Highest shall overshadow thee: therefore also that holy thing which shall be born of thee shall be called the Son of God.
Among properly educated and faithful Christians throughout the history of the Church, there has never been doubt that there is only One God, and that He is composed of three parts, just as humans who were made in His Image are. Since He is the Almighty, He is able to do far more with Himself than human beings.
GOD'S POWER IS SHOWN BY THE VERY PRESENCE OF JESUS WALKING ON EARTH PHYSICALLY.
We can expect capabilities within God to far exceed those in mankind. For an example, He is able to separate various parts of Himself, and still function. One example of this is when God the Father (the soul of the Almighty) separated from the Body, Jesus as He completed His payment for our sins on the Cross.    Mark 15:34 And at the ninth hour Jesus cried with a loud voice, saying, Eloi, Eloi, lama sabachthani? which is, being interpreted, My God, my God, why hast thou forsaken me?   The Father, incapable to receiving sin, had to depart from His physical presence because Jesus had to receive the sins of the world into His own body.
Another unique ability is seen when He sent His Holy Spirit into men.   Acts 4:31 And when they had prayed, the place was shaken where they were assembled together; and they were all filled with the Holy Ghost, and they spake the word of God with boldness.   Neither the physical portion nor the soul of the Almighty were brought into them…but His Spirit was.
These are a couple of the unique capabilities that show how much superior God is to any of us. Some capabilities which critics mention to try and discredit the idea that God is One and that "..in Him (Jesus) dwelt all the fullness of the Godhead bodily"–Colossians 2:9) is the fact that Jesus claims not to know certain things.
On one hand, He understood what people were thinking without them saying a word.  Matthew 12:25 And Jesus knew their thoughts, and said unto them, Every kingdom divided against itself is brought to desolation; and every city or house divided against itself shall not stand:
On the other hand, He claims not to know the time of His return.  Mark 13:32 But of that day and that hour knoweth no man, no, not the angels which are in heaven, neither the Son, but the Father.  This is simply a much more powerful ability which God has to put certain things out of His mind, while retaining what He chooses.
The Almighty can choose to forget things, and put them away from Himself.  For us, this is an incredible blessing ! Psalms 103:12 As far as the east is from the west, so far hath He removed our transgressions from us. For a human being to totally eliminate something from their memory is difficult, but some people are–by their own choice–able to forget certain things which they choose to forget. How much more capable is Almighty God to do this !
DOES GOD CLAIM TO BE KING OVER A PHYSICAL NATION, AS WELL AS SPIRITUAL ?   WHO IS THE KING OF THE JEWS ? DOES THE BIBLE APPOINT THAT TITLE TO JESUS ?
–HE CONFIRMS THIS HIMSELF. Isaiah 44:6-8— Thus saith the LORD the King of Israel, and his redeemer the LORD of hosts; I am the first, and I am the last; and beside me there is no God. And who, as I, shall call, and shall declare it, and set it in order for me, since I appointed the ancient people? and the things that are coming, and shall come, let them shew unto them. Fear ye not, neither be afraid: have not I told thee from that time, and have declared it? ye are even my witnesses. Is there a God beside me? yea, there is no God; I know not any.
–THE WISE MEN KNEW IT.  Matthew 2:2-3— Saying, Where is he that is born King of the Jews? for we have seen his star in the east, and are come to worship him. When Herod the king had heard these things, he was troubled, and all Jerusalem with him.
–PILATE UNDERSTOOD IT. Luke 23:3— And Pilate asked him, saying, Art thou the King of the Jews? And He answered him and said, Thou sayest it. ("Thou sayest it," literally means, "You have said it.")
WHO IS THE ROCK OF ISRAEL IN THE O.T. ?
The Rock of Israel is a term describing the physical appearance of God as He led from the front, and protected from behind, the Children of Israel out of Egypt and through the wilderness. The people could see Him, as He manifested Himself physically as a cloud and as a pillar of fire. Exodus 13:21 And the LORD went before them by day in a pillar of a cloud, to lead them the way; and by night in a pillar of fire, to give them light; to go by day and night:
WHO DOES THE O.T. SAY THIS WAS ?
Deuteronomy 32:4— He is the Rock, his work is perfect: for all his ways are judgment: a God of truth and without iniquity, just and right is he.
2 Samuel 22:32— For who is God, save the LORD? and who is a rock, save our God?
Isaiah 17:10–Because thou hast forgotten the God of thy salvation, and hast not been mindful of the rock of thy strength, therefore shalt thou plant pleasant plants, and shalt set it with strange slips:
Obviously, the Old Testament considers that the "Rock" is God.
THE NEW TESTAMENT CONFIRMS THAT THE "ROCK IS JESUS."
1 Corinthians 10:4 And did all drink the same spiritual drink: for they drank of that spiritual Rock that followed them: and that Rock was Christ.
1 Peter 2:4-8 To whom coming, as unto a living stone, disallowed indeed of men, but chosen of God, and precious, Ye also, as lively stones, are built up a spiritual house, an holy priesthood, to offer up spiritual sacrifices, acceptable to God by Jesus Christ. Wherefore also it is contained in the scripture, Behold, I lay in Sion a chief corner stone, elect, precious: and he that believeth on him shall not be confounded. Unto you therefore which believe he is precious: but unto them which be disobedient, the stone which the builders disallowed, the same is made the head of the corner, And a stone of stumbling, and a rock of offence, even to them which stumble at the word, being disobedient: whereunto also they were appointed.
NOTE: In the Old Testament, God is called the "Rock."
The God of salvation is considered to be the "Rock."
The New Testament helps us understand more clearly that Jesus was the fulfilment of that role, as the true Rock, and is therefore considered to be God.
DOES THE N.T. EVER SPEAK OF JESUS DIRECTLY AS GOD ?
THOMAS RECOGNIZED THAT JESUS WAS TRULY GOD IN FLESH AFTER HIS RESURRECTION. WHEN SEEING JESUS AFTER HIS RESURRECTION, HE SAID, "My Lord and my God" —John 20:20. Jesus does not correct him, obviously acknowledging that what he said was true.
THE SAVIOR IS CONSIDERED "GOD." Titus 2:13 encourages us to wait for the coming of our God and Savior, Jesus Christ (see also 2 Peter 1:1) .
THE "SON" IS CONSIDERED TO BE GOD. In Hebrews 1:6 the Father declares of Jesus, "But unto the Son He saith, 'Thy throne, O God, is for ever and ever; a sceptre of righteousness is the sceptre of thy kingdom.'" The Father refers to Jesus as "O God" indicating that Jesus is indeed God.
THE APOSTLE PAUL CALLS JESUS OUR "GREAT GOD AND SAVIOR"–Titus 2:13, and even says that Jesus existed in the "form of God" prior to His incarnation
GOD THE FATHER SAYS OF JESUS, "…Thy throne, O God, is for ever and ever" —Hebrews 1:8.
JESUS IS DIRECTLY CALLED THE CREATOR IN John 1:3— All things were made by Him; and without Him was not any thing made that was made.
and Colossians 1:16-17— For by Him were all things created, that are in heaven, and that are in earth, visible and invisible, whether they be thrones, or dominions, or principalities, or powers: all things were created by Him, and for Him: And He is before all things, and by Him all things consist.
HE SAYS OF HIMSELF THAT HE IS THE ALMIGHTY. Revelation 1:8— I am Alpha and Omega, the beginning and the ending, saith the Lord, which is, and which was, and which is to come, the Almighty.
GOD REVEALED HIMSELF PHYSICALLY IN THE O.T.
Keeping in mind that only the physical part of God can be seen, we have several manifestations which ARE physical in the O.T.
ADAM, WALKING WITH THE LORD IN THE GARDEN.
Genesis 3:8 And they heard the voice of the LORD God walking in the garden in the cool of the day: and Adam and his wife hid themselves from the presence of the LORD God amongst the trees of the garden.
GOD ATE PHYSICAL FOOD WHEN VISITING ABRAHAM.
Genesis 18:1-8 And the LORD appeared unto him in the plains of Mamre: and he sat in the tent door in the heat of the day; And he lift up his eyes and looked, and, lo, three men stood by him: and when he saw them, he ran to meet them from the tent door, and bowed himself toward the ground, And said, My Lord, if now I have found favour in thy sight, pass not away, I pray thee, from thy servant: Let a little water, I pray you, be fetched, and wash your feet, and rest yourselves under the tree: And I will fetch a morsel of bread, and comfort ye your hearts; after that ye shall pass on: for therefore are ye come to your servant. And they said, So do, as thou hast said. And Abraham hastened into the tent unto Sarah, and said, Make ready quickly three measures of fine meal, knead it, and make cakes upon the hearth. And Abraham ran unto the herd, and fetcht a calf tender and good, and gave it unto a young man; and he hasted to dress it. And he took butter, and milk, and the calf which he had dressed, and set it before them; and he stood by them under the tree, and they did eat.
ABRAHAM, AT THE OFFERING OF ISAAC..
Genesis 22:14 And Abraham called the name of that place Jehovahjireh: as it is said to this day, In the mount of the LORD it shall be seen.
John 8:56 Your father Abraham rejoiced to see my day: and he saw it, and was glad.
GOD, APPEARING TO MOSES IN THE TABERNACLE. FACE TO FACE.
Exodus 33:11 And the LORD spake unto Moses face to face, as a man speaketh unto his friend. And he turned again into the camp: but his servant Joshua, the son of Nun, a young man, departed not out of the tabernacle.
Numbers 14:14 And they will tell it to the inhabitants of this land: for they have heard that thou LORD art among this people, that thou LORD art seen face to face, and that thy cloud standeth over them, and that thou goest before them, by day time in a pillar of a cloud, and in a pillar of fire by night.
Deuteronomy 5:4 The LORD talked with you face to face in the mount out of the midst of the fire,
Deuteronomy 34:10 And there arose not a prophet since in Israel like unto Moses, whom the LORD knew face to face,
TO MOSES, AS THE GLORY PASSED BY, HIS HAND WAS OVER MOSES' EYES.
Exodus 33:18-23 And he said, I beseech thee, shew me Thy glory. And he said, I will make all My goodness pass before thee, and I will proclaim the name of the LORD before thee; and will be gracious to whom I will be gracious, and will shew mercy on whom I will shew mercy. And He said, Thou canst not see My face: for there shall no man see Me, and live. And the LORD said, Behold, there is a place by Me, and thou shalt stand upon a rock: And it shall come to pass, while My glory passeth by, that I will put thee in a clift of the rock, and will cover thee with My hand while I pass by: And I will take away Mine hand, and thou shalt see my back parts: but My face shall not be seen.
When this unique and amazing opportunity was granted to Moses, we see the three distinct parts of God in one event. The Glory (Shekinah) is present, cloaking the soul, the Father. The Divine Hand is that of the Lord Jesus, protecting Moses' eyes from the unmatchable holiness and glory of God.
GOD, WRESTLING WITH JACOB.
Genesis 32:24-30 And Jacob was left alone; and there wrestled a man with him until the breaking of the day. And when he saw that he prevailed not against him, he touched the hollow of his thigh; and the hollow of Jacob's thigh was out of joint, as he wrestled with him. And he said, Let me go, for the day breaketh. And he said, I will not let thee go, except thou bless me. And he said unto him, What is thy name? And he said, Jacob. And he said, Thy name shall be called no more Jacob, but Israel: for as a prince hast thou power with God and with men, and hast prevailed. And Jacob asked him, and said, Tell me, I pray thee, thy name. And he said, Wherefore is it that thou dost ask after my name? And he blessed him there. And Jacob called the name of the place Peniel: for I have seen God face to face, and my life is preserved.
GOD APPEARED TO MANOAH TO ANNOUNCE THE COMING OF SAMSON.

Judges 13:22 And Manoah said unto his wife, We shall surely die, because we have seen God.