THE GREAT DANGER THAT IS CLOSER THAN YOU MIGHT THINK !
---
WHILE MOST PEOPLE ATTEMPTING TO WAGE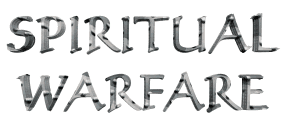 LOOK ELSEWHERE, THE
GREATEST DANGER
FOR DEFEAT IS CONTAINED WITHIN
ONE'S OWN SPIRIT !
ARE YOU UNDER THE INFLUENCE ?
WHAT INFLUENCES THE SPIRIT OF MAN ?
1. THE FLESH.
2. HIS MIND.
3. OUTSIDE THINGS.
– IF HE IS LOST: people, demons, conditions
– IF HE IS SAVED: THE SPIRIT OF GOD
IF HE FOLLOWS ANY INFLUENCE OTHER THAN
THE SPIRIT OF GOD, HE WILL BECOME AN ENEMY
OF THE WORK OF THE LORD.
…Because the carnal mind is enmity against God:
for it is not subject to the law of God, neither indeed can be.
Romans 8:7